How to Uphill Properly with Your Electric Scooters?
For electric scooters to be considered a reliable form of transportation, it would be perfect if they can cope with different types of terrain to meets all your requirements, including go uphills.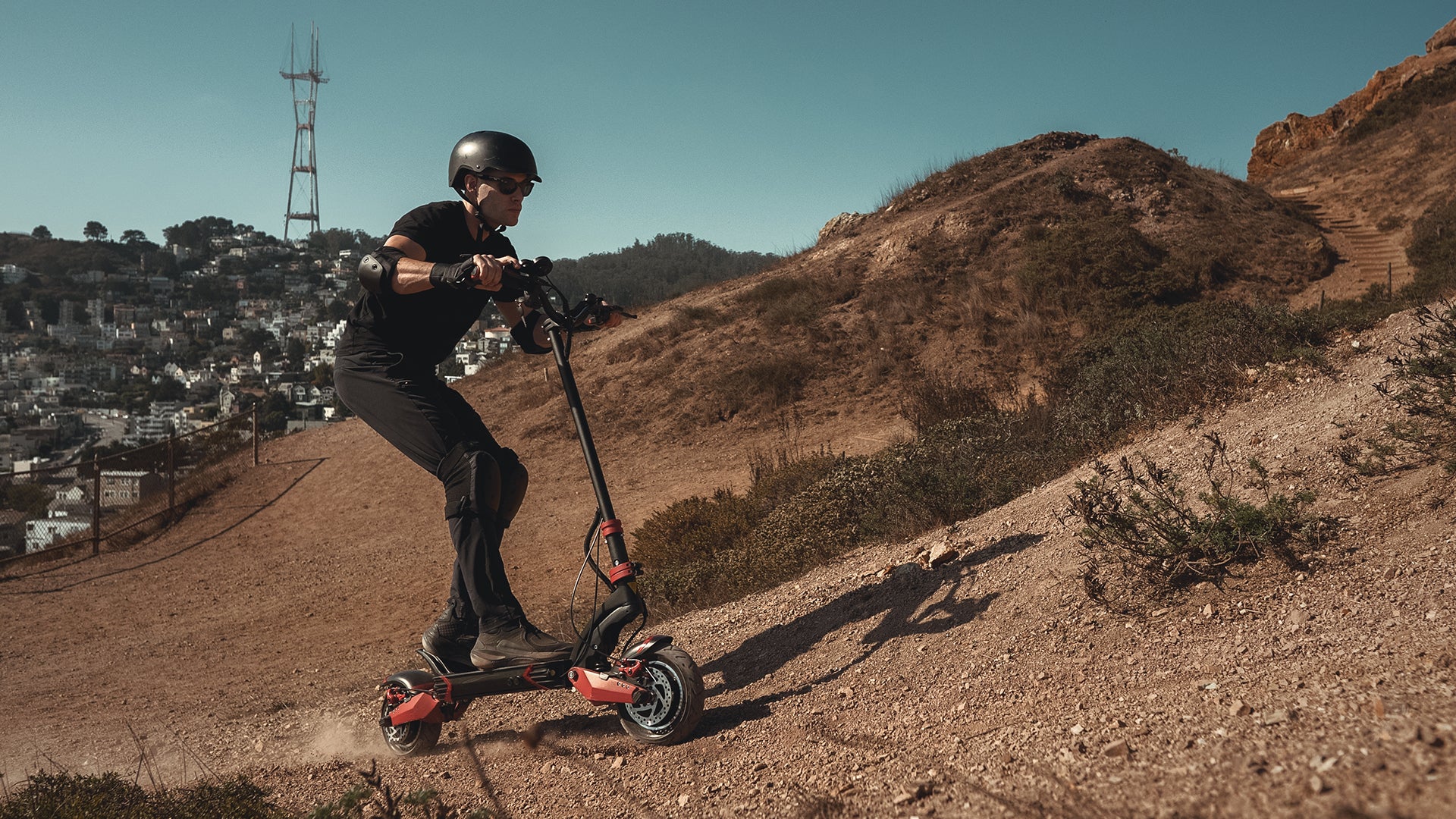 Most electric scooters can climb a slope of 10 degrees, and that is normally a piece of cake for a battery-powered
electric scooter. But when comes to 25+ degrees, a certain power is required for electric scooters. In simple terms, the more power your scooter has the better it is for uphills.
ELECTRIC SCOOTER BUYING TIPS FOR UPHILLS
When buying an electric scooter, in such a case, there are some things to consider that can affect how steep an uphill it can go. 
Motor: The more powerful the motor, the better it can ride up steep inclines. If you live in an area with many inclines, consider getting an electric scooter with a 500-watt motor.
Battery: The stronger the battery, the more juice it provides the motor.
Range: Going up many inclines can reduce the range of the electric scooter. But with a big battery, it can last your electric scooter's range capability during your commute time.
Climb angle: Most electric scooters have a climb angle of 10-15 degrees. And the more power your scooter has the better it climbs.
Tires: Having tires with the right size and grip will help you ride on inclines with ease.
Suspension: When you are riding your electric scooter uphill, you put more weight on the back tire. Having a good suspension system will ensure your weight doesn't affect the tires.
Weight: The weight of the rider will affect the electric scooter's ability to go uphill. Having a foldable electric scooter for adults and a higher carrying capacity will help get you uphill in no time.
Take Varla Eagle One, All-Terrain Off-Road electric scooter as an example, it can climb a 30-degree angle with no extra effort. All this is a credit to the 250-watt Dual Hub Motor. It also has a 52V/18.2Ah Lithium-ion battery, so you can be sure your electric scooter can take you uphill when you needed.
HOW TO RIDE YOUR SCOOTER UPHILL
When riding a scooter uphill, there are a few things to consider:
Charge your electric scooter before riding on inclines.
How much weight you are carrying. If you are riding on multiple inclines, it's best to have as little weight on you as possible such as a heavy coat and backpack.
Make sure you have a good balance when you start the ride. If possible, gain some momentum.
Don't attempt to go top speed unless the scooter is slowing down significantly.
Stand in the middle of the board and balance your weight evenly.
Lean forward and ensure your knees are bent but still avoiding leaning over the handlebars.
Accelerate your scooter uphill while being aware of pedestrians, cars, and obstacles that might be on the road
Lastly, have fun!
If you are having difficulty and the scooter is slowing significantly, kick with your foot on the ground and help it up or step off and push the e-scooter. This is the best option to ensure your safety.
LAST BUT NOT LEAST
It is easy to go uphill on an adult electric scooter like the Varla Eagle One with a long-range and heavy-duty so that you can travel uphill with ease. The Eagle One has a max carrying capacity of 330 lbs and a long range of 60+km. Remember that the range will be shortened when you travel uphill often throughout the commute, but you can still get optimum performance from a Varla adult electric scooter.
If you travel uphill and downhill often on an electric scooter, make sure you are wearing safety equipment to prevent injury. And you may check our accessories section to shop your protection gears such as elbow and knee pads, and gloves to protect your skin in the event of a fall.
Attaboys and Attagirls, ENJOY!