Is it easy to ride all terrain electric scooters?
Electric scooters are the modern-day sensation. Everyone wants to ride a double scooter and preferably an all terrain electric scooter because it is more advanced and reliable. However, there are doubts in the minds of the masses that it is easy to ride an electric motor scooter?
All-terrain scooters are different from ordinary electric scooters you see on the road. They contain additional functions to work on any surface. Finding the right scooter for yourself may not be easy, but what about the misconceptions and misunderstandings in people's minds related to all-terrain riding and difficulty levels?
At times, people ask many silly questions, but it is essential to answer their queries and get them back on track!
Here, we will discuss everything about all-terrain electric scooters:
What is an all-terrain electric scooter?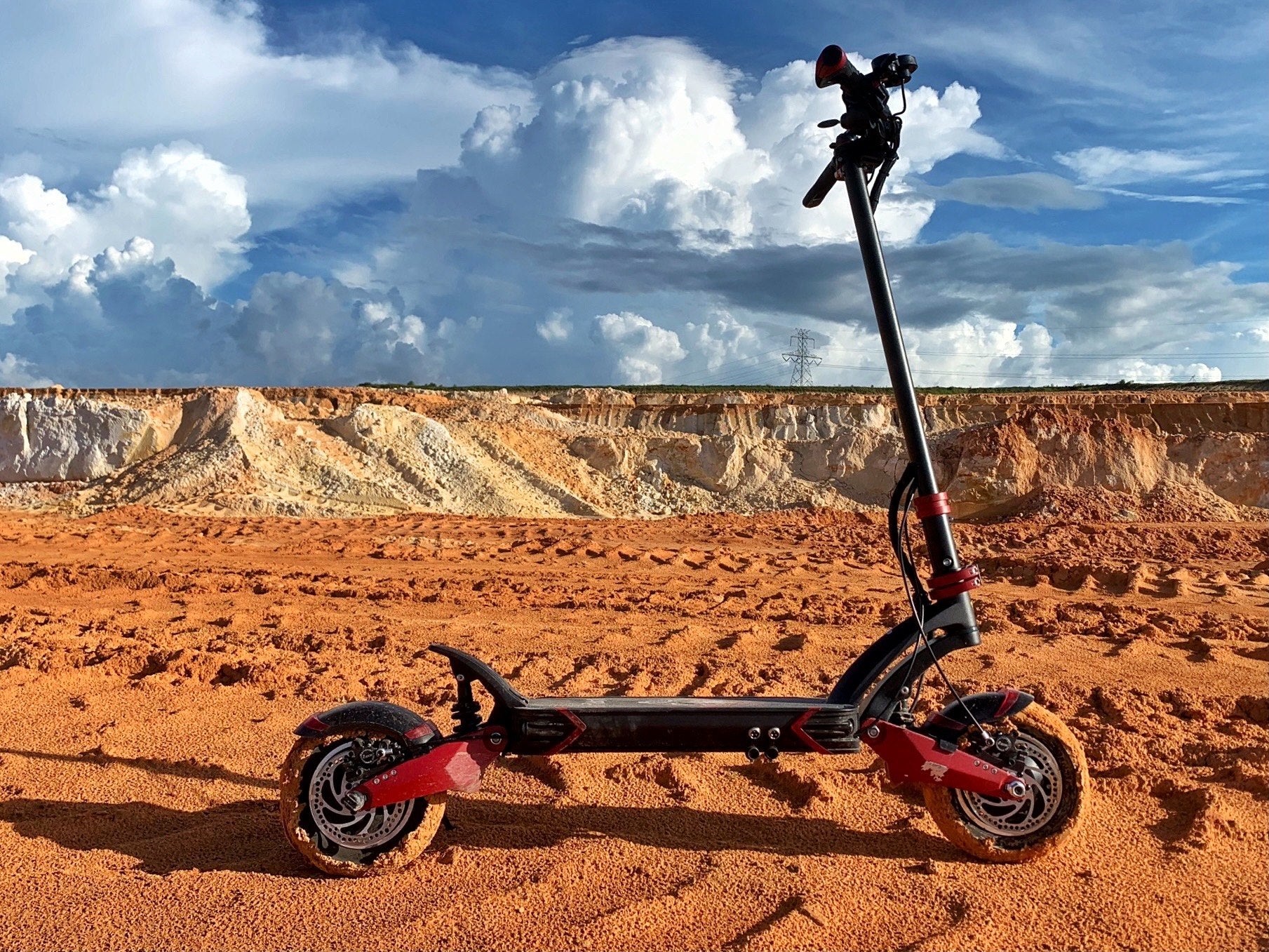 An all-terrain scooter is made for all surfaces. It is a type of adult scooter that is considered superior because you can ride it on roads, streets, and uneven places.
It is more like an off-road scooter with better-built quality, better body, and tires. It is a complete package that brings you the ultimate riding experience.
You need not worry about any hurdles and obstacles on your way to school and the supermarket. The all-terrain scooter has got it covered!
Master wheels can take you anywhere!
Difference between an all-terrain and straightforward electric scooter
A simple electric scooter for adult is made for smoother roads and streets. It is made for school-going kids and adults who live in cities. You can ride a scooter to a supermarket, but you cannot ride it a hill!
You will definitely need something more substantial and with greater power to climb on a hill. It is even challenging if the road is steep and uneven at the same time.
For such roads and off-road trips, designers developed all-terrain electric scooters. They are built strong, with bigger and more powerful batteries and off–roads tires. The frame and material used are of fine quality, making it an ultimate riding experience.
Riding an all-terrain scooter
Do you remember your first time riding an electric scooter? How scared were you? It is evident that the first experience is not so comforting, and it is true not only for electric scooters but everything. You find it hard to keep things in mind and focus on the objective. But as time pass you get along with things nicely.
First of all, if you are an electric scooter rider, fortunately, you have already crossed the first stage!
Because there is no difference between riding a regular scooter and an all-terrain scooter, you can ride it without worrying about anything. You will yourself find that everything is so identical. All you need is to focus on your path and a bit on speed and handling.
All that is mentioned in the above paragraph is also true for an all-terrain scooter. We can say that it is not difficult at all to ride an all-terrain electric scooter. It is a scooter for off-road adventures and rough tracks. It has master tires and bigger batteries to provide better power for the big wheels. You can climb a steep hill riding the scooter. You can also use it in your daily life.
In short, if you are a power lover and want an exceptional electric scooter, an all-terrain electric scooter should be your choice. It is as easy to ride as any other electric scooter.
You can buy the best all-terrain scooters from Varla. They deliver scooters all over Europe.
Universality
People are doubtful about the performance and ability of electric motor scooters. They think that it is only suitable for something and bad for others. However, these are all assumptions.
You can use the scooters for any surface and any environment. That is why they are like a superior breed of electric scooters. They are super fast and super comfortable, along with super easy riding.
They are heavier than ordinary scooters due to bigger batteries and larger motors for more power and speed. It is also an advantage because it provides a better group grip. You will not lose control of your scooter at all. When having an off-road advantage, all-terrain scooters give you stability and place you in a better position to control your ride.
Up-hilling with your all-terrain scooter
If you are an adventure lover or live to ride your electric scooter in mountains and hilly areas, then an all-terrain electric scooter is for you!
Having a big battery and a more robust motor makes it perfect for mountains and hilly areas. You can also ride on dirt roads. It is a lot safer and reliable option for long-distance and more substantial wheels.
Main features
It features that make anything superior to the rest. And all terrain scooters are loaded with such features that make them exceptional.
Now, we are going to discuss some of the prime features of all-terrain scooters that make them better than any other scooter. These features also contribute to easy riding.
Smooth ride: All-terrain scooters are state of the art. They are built according to international standards. That is why they provide a much smoother ride. Smoothness is concerned with the build quality. Bigger tires and better shock absorbers are the reasons for additional comfort.
Speed: Bigger and better motor offers more speed. Actually, it is not all about the motor. The battery also places a vital role in maintaining speed and acceleration. A bigger battery and motor can provide you with a speed of up to 40mph.
Better handling: Broader board and big tires provide you with better handling. In addition to that, a broad deck and ground clearance also adds to it. A bigger battery and motor make it a bit heavier, and as we know, heavy rides provide better handling and are more stable.
Broader deck: All-terrain electric scooters have a broader deck than the rest. It is because of the bigger battery and motor. If you easily place your feet on the deck. You can place your feet side by side or in front of each other. In fact, you can place your feet the way you like.
It gives you the liberty to enjoy your ride the way you want. An ordinary electric scooter for adult does not provide you with this facility.
Suitable for every surface: It is not about a single surface and track-type; instead, it is about every track. What if you go to a picnic along with an ordinary scooter? You will not be able to ride it.
But think of having a scooter that works on almost every surface of the earth and is easier to ride!
You can take it with you anywhere and ride it the way you want. It is the most satisfying thing!
Conclusion
All terrain electric scooters are the best in the market. You cannot get anything better for yourself. Off-road adventures, mountains, hills, plans, and dirt roads, all of that and only one ride to conquer them all. It is an all-rounder scooter!
Do not think much and buy yourself an all-terrain electric scooter. It is easier to ride!