Best City Off-Road & Smart Design & Heavy-Duty Adults Electric Scooter
What does it mean to be a child at heart?

Here is an answer that makes a sense:

"What a great thing it is to be young at heart. To be so blessed means, although you are an adult, you still retain the capacity for child-like delight in many things. You have not lost your capacity to be excited by little things, like the time a butterfly landed on your arm, or the gentle, protective feeling you get when a kitten jumps into your lap. Rainbows are beautiful, waterfalls are mesmerizing, and it is exciting to get a call from an old friend. You still talk baby talk to all puppies."

The opposite of "young at heart" is to be "jaded." Don't become jaded; it's really boring.

-Terry Kureth
For some people, an electric scooter is nothing but a big toy for the big guy's amusement. Nothing practical but a way to kill time. Anything, but not a mode of transportation. Hmmm... It might make sense at some point for a certain kind of electric scooters: weak motor, less battery capacity, poor brakes, without any suspension, let alone dual independent suspension, narrow deck, unqualified frame material, embarrassing streamline design, you name it. There are more things you can blame to classify the electric scooter as the occasionally-kill-time-adult-toy, never treat it like a real-eco-friendly-green-commute-vehicle. Let alone treat them as a green alternative to a short car trip, to zip around, to avoid traffic jams, to destroy commute boredom. But thanks to the ever-changing technology, everything gets improved, updated, and inspired to make the electric scooter both fun and practical level. Along with the booming of the electric industry, electric scooter is the trend itself.
Personal electric scooters are all the rage currently. Yet, with so many options, how do you know that you have the best scooter under your feet. Well, it might be easier than you think! Varla-EU is getting ready to launch its latest personal mobility scooter. The Pegasus.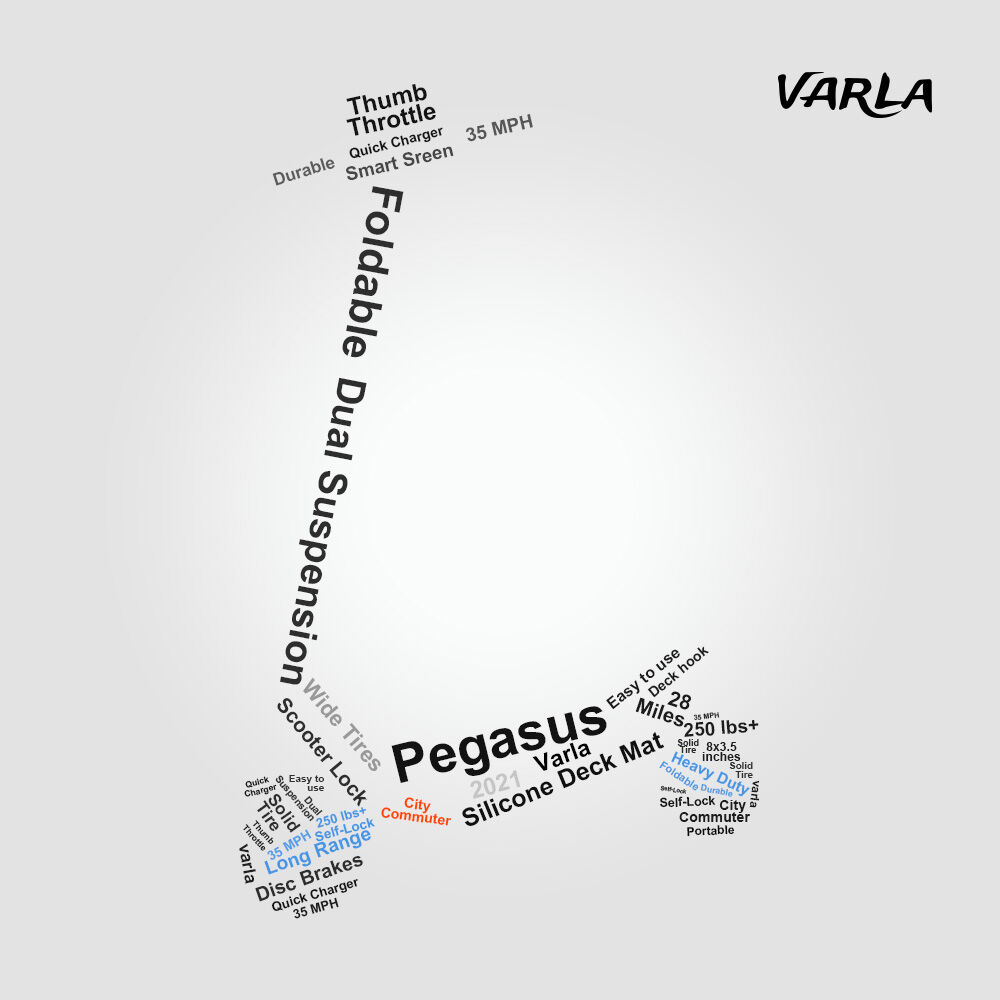 The Pegasus is aimed at the middle of the market, but it will sport features that will knock out some of the best scooters on the road. This is one of Varla's best designs and comes with a host of tech and rider versatility. But let's start at the beginning…
Design
E-Scooters are pretty much the same when it comes to the major features of the design. They all have a footboard, handlebars, and electric motors, and wheels. However, it is in the way that manufacturers put these together and how they tweak each of these that make the difference. Varla has been in the business for only a short time, but they have shown that they have the skills and design innovation to compete with the best there is. So, when you look at the Pegasus, you will see that the suspension and sleek foot pedestal strike an awesome profile. This profile makes you look good when you're riding and gives the Pegasus a super modern, streamlined look.
Power and Drivetrain
Power output is crucial on an E-Scooter, it determines range and speed as well as mobility. The Pegasus has got all. 500W wheel hub motors with a 48V electrical system. For those of you that are new to E-Scooters, it might not sound like much. But once again, Varla has put some clear thought into the drivetrain of their new scooter. The 15.6Ah battery will give you a max speed of up to 20kph and let you enjoy the wind in your face for up to 28 miles before you need to charge up. The dual motors ensure that you have excellent grip from the tires and ample traction when you need it.
Load Capacity and Mobility
With most E-Scooters being designed for the stereotypical hipster, it's good to see that Varla has taken a different stance. Where many scooters only cater to riders up to about 200lbs (about 100 kg), the Pegasus has a load capacity of up to 280lbs (around 127 kg). Which makes it far more versatile than most scooters on the market. But what this means is that the Pegasus has superb suspension and wheels. Mobility is not just the maximum climbing angle or range, it's the comfort that you can expect when you are riding. For most riders, it's ok to go up a hill slightly slower if you can do it smoothly and consistently. But with the Pegasus, you get a double whammy! You get amazing suspension with single springs that have a bump stop for comfort, plus you get solid tires that have superior traction and longevity.
Riding Performance
This is where the Pegasus is going to really surprise the competition. Let's face it, most scooter riders are ever so slightly adventurous. We enjoy going to work and back with our scooters just fine, but every now and then we get a little crazy, and we want some speed and excitement from our "little speed demons". Well, Pegasus will not disappoint. The top speed of 20 kph and load capacity are hints to the power and durability of the drivetrain and performance. And when you get on the Pegasus and thumb the throttle, you get the feeling that she wants to ride! We had the Pegasus on hills and in parks and on the open road to the office, and all I can say is WOW. Pegasus ride is smooth and powerful, with ample comfort and stability. Simply amazing.
Details and Features
Now that we have checked the basic features, let me tell you about the Pegasus's special features. Firstly, let's look at the handlebars. The design suits riders of up to 2m tall and offers a great driving position. The LCD screen mounted in the center of the bars gives you all the telemetry that you want like speed, battery levels, braking, and more. The thumb throttle is one of the best I have experienced in a long time. Soft-touch and easy to manage speed and more than that - Comfortable.
Where some scooters lose their riders is the complicated way you must fold and store them. Honestly, what's the point of having a mobility scooter when it cumbersome to store? The Pegasus takes mobility to the next level with a 3-step fold and store system. If you are super dexterous, you might even be able to do it with one hand! And the lock clamp does just that, locks the handlebars in place for a smooth, stable ride.
Illumination is always good on an E-Scooter. A powerful headlight, brake light, and turn signals let other commuters around you know just what you are up to. Regardless if they are on a bike, in a car, or on a scooter themselves. More than showing others where you are going, you can stop going just as effectively. The Pegasus has powerful disc brakes front and back to give you extra stopping power no matter the surface conditions. 
As mentioned before, the sleek design of the foot pedestal gives your Pegasus scooter an ultra-modern look, but it also has deep grooves for extra grip on the non-slip rubber coating. The deck hook lets you hand up your scooter in between rides for safe and easy storage.
What Do I really Think about The Pegasus?

 
Ok so, I have given you all the specs and features of the new Pegasus from Varla Scooters. But here is the real verdict. I rode the Pegasus for almost 2 weeks all over my neighborhood and surrounding areas. I can't say that it was 100% all the time, but then again, anyone who says that is lying! There is no such thing as a 100% E-Scooter.
But I am going to go out on a limb and say the Varla got to 99% in my opinion. The Pegasus is an all-around great E-Scooter. Awesome power and range with speed when you need it, and fantastic traction from the tubeless tires.
Like one of Varla fans said:
"I have contacted other scooter companies in the past about making this exact kind of scooter. My request fell on deaf ears. I said the first company that creates a reliable scooter that can go around 28-30 miles in range & 20 kilometers in speed and has solid tires(no flats) and costs about $1,000 will be fulfilling a market that other companies are simply ignoring. This scooter looks like its hitting all my desires and the wants of people who want a commuter scooter that is reliable above all else and has the capacity to go fast enough to keep up with traffic. I'm too damn old to be walking ten miles home because of a flat. I also don't want to go through the nightmare of constantly changing tires. I'm giving this thing 5 stars for simply creating something that I so desired. We will see in time how great it truly is." ---Jonh B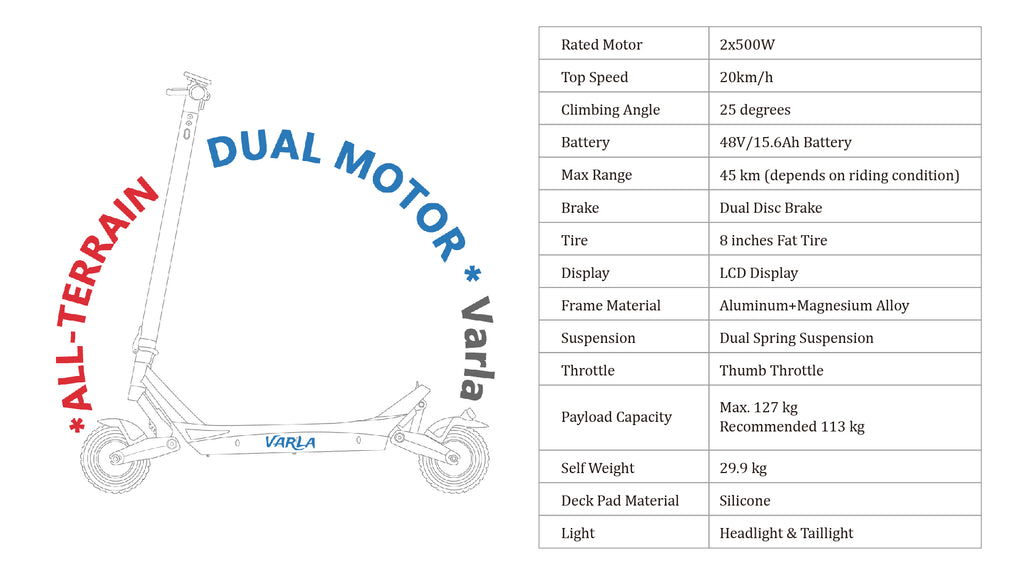 I had a blast testing the Pegasus, and I am looking forward to receiving my very own Pegasus very soon! Like the ad goes, No Peak Hour, Only Peak Power.
So, if you are in the market for an E-Scooter trying to upgrade your commute style, looking for an alternative for short car trips, or purely just for outdoor fun, then don't miss the Varla Pegasus, for you might just become a fan as I have!
Time flies, whether you're having fun or not, why not do something that can produce joy. Ride with Varla Pegasus, and be young at your heart to zip around to explore what beyond.
Pre-order in August. Don't forget to join our community for the latest news and promotions.
No Peak Hour, Only Peak Power!
Varla Pegasus, waiting in the winds here...