The Best Dual Motor Electric Scooter
Electric scooters are eco-friendly vehicles, they are driven by electric batteries, equipped with powerful motors to explore near and far.
Varla Eagle One as an off-road electric scooter is a handsome investment for those who like adventures, who are tired of annoying traffic jams, who want to piece the off-road fun and commute efficient as a whole. As an adult kick scooter, powered by 500W motor is suitable for rough surfaces and all terrains.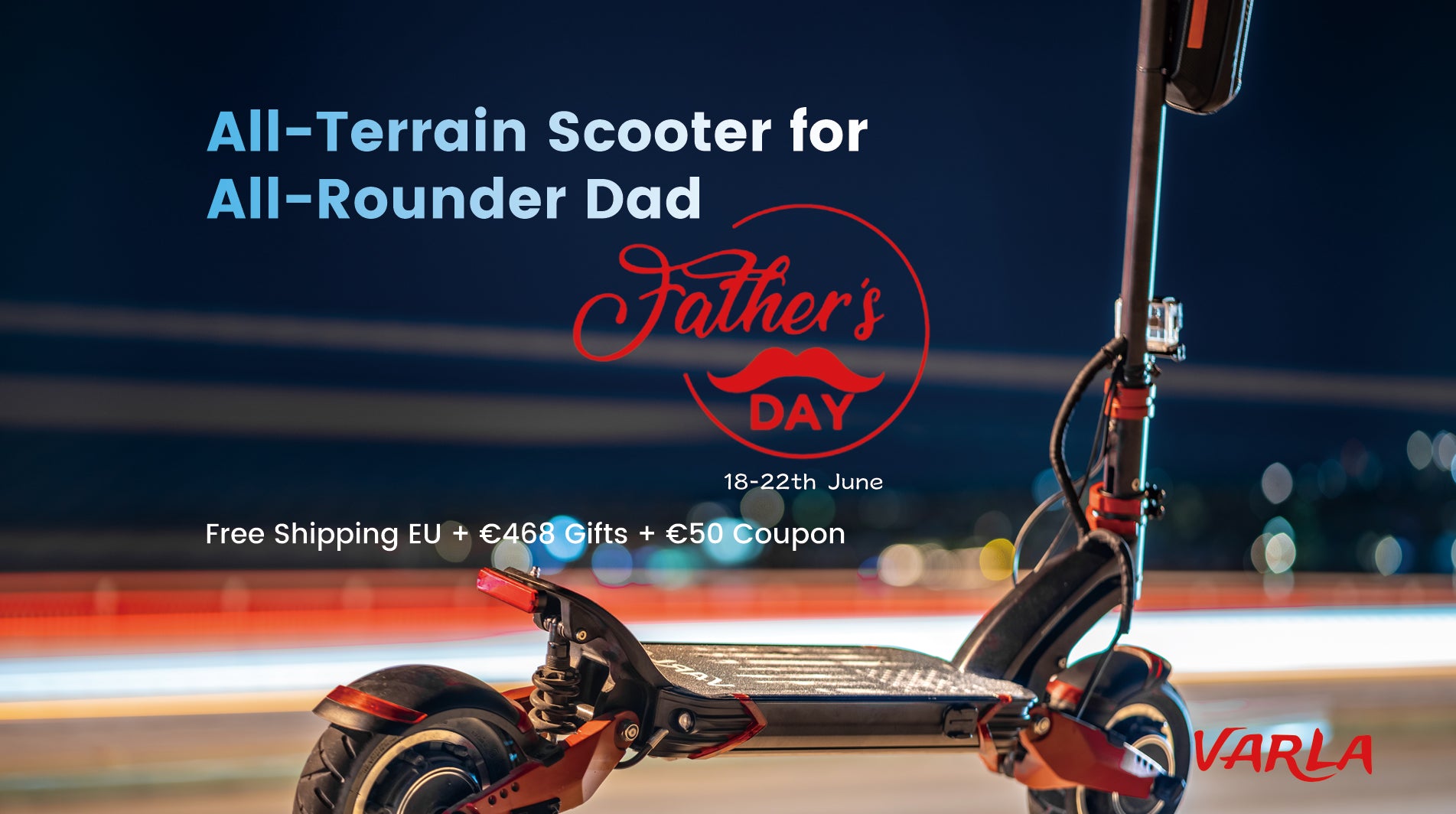 "Flaunting an inky black body with metallic red accents, it not only looks the part but is equipped to handle the most demanding on and off-road environments with ease. From buttery-smooth adjustable suspension to a generously sized deck, and powerful hydraulic disc brakes that can stop at a dime, the Eagle One rivals more expensive models. It is, pound-for-pound, one of the best value electric scooters."
--Electric Scooter Inside.
| | |
| --- | --- |
| Motor | Dual Motor, 500W Each |
| Tire | 10 Inches Pneumatic Tire |
| Max. Range | 20km/h |
| Display | LCD |
| Charger | 2.0 A |
| Self Weight | 34.9 kg |
| Top Speed | 20 km/h |
| Brake | Dual Hydraulic Brake + ABS |
| Payload Capacity | 120 kg |
| Battery | 52V/18.2Ah |
| Charging Time | 8~9 Hours or 4~5 Hours in 2Chargers |
DUAL MOTORS AND THE ADVANTAGE THEY PROVIDE
When an electric scooter possesses dual motors, it simply means that the scooter has propulsion mechanics on both the front and rear tire assembly.
Therein, two is always better than one (let's be honest); the dual motors in the Eagle One provide an extra boost of power and speed. That added power functions to carry heavier loads (think rider and full backpack or bag or anything that one can carry on a scooter--or just this writer and a ridiculous quarantine weight). The dual motor also adds speed to the scooter and more torque on steep slopes and sloppy terrain. It is the best electric scooter for off road purposes.
Varla's dual motor or dual engines are powered by a 52V/18.2Ah capacity lithium-ion battery. In less complicated terms, without all the number mumbo jumbo, it means the battery can provide more than 64+ km of long-distance riding on Eco Mode.
More specifically, in terms of power, the motor on the Eagle One allow it to reach an impressive top speed of 20 kph. That's fast on an electric scooter. Like, real fast.
The two engines consist of a 250W hub motor on the wheels that can provide a peak power output of 500W. 2 x 25A speed controllers power the e-scooter to maintain optimal power performance. The rider decides how much umpf to feed the motors, whether it's to save power or go pedal to the metal.
WARRANTY
The Varla Eagle One offers a two-year warranty for its throttle, controller, and frame, and all come with free maintenance. Aesthetic damage isn't covered, and neither is anything deemed to be the fault of the rider – such as abuse, neglect, improper repair and maintenance, accidents, crashes, or any other unauthorized modification to the scooter. For more warranty information, please click here:
https://varlascooter.eu/pages/warranty-info
REPLACEMENT PROCEDURE:
Varla will replace any and all component that is deemed to be defective or damaged (including damage incurred during shipment) exclude user error.
Claims
All claims to this warranty must be made through VARLA. And submitted to email. Proof of purchase and photos or videos of the damaged product is required with any warranty request. Before making a warranty claim, we suggest that you contact us by email as there may be a simple fix for your problem(support@varlascooter.eu). Valid warranty claims will be processed through VARLA within 2 year of initial purchase.
NOTICE: VARLA will not replace any part without first seeing photos or video of the damaged product. Customer needs to provide us with evidence by email.
Shipping Damage Claims
In rare instances, the item received may be damaged during transportation. If shipping damage occurs, please contact the email and provide us with photo or video proof.
NOTICE: we will not accept Shipping Damage Claims later than 7 days from receipt of products.
NOTICE: the specific warranty covering your Varla scooter bought from Varla Retailers is governed by the law of the state or country in which it was purchased and applies only to scooter purchased from Authorized Varla retailers or directly from Varla dealers.
FAQS ABOUT OUR WARRANTY
Q: I am not the original owner, bought a second-hand Varla scooter. Is my electric scooter covered by the warranty?
A: Yes, you can enjoy the warranty only if meet the following 2 conditions:
1. The 1-year package hasn't expired since the initial owner received it
2. You have the initial owner's name & the initial order number.
Q: I crashed and damaged my scooter. Is warranty coverage available to me?
A: Sorry, crashes or accidents are not covered by the warranty policy. The warranty only covers defects in manufacturing, not damage from crashes. 
Varla Eagle One : a dual-motors electric scooters provide the power needed to catch that rush of speed and excitement that feels so good in the open air. 
With Varla: More power, more distance, and more fun.
Enjoy!