The Impact of Off-Road Tires on the Performance of All Terrain Electric Scooters
If you are wondering about taking various routes on an all-terrain electric scooter, then you are at the right spot. The off-road tires on the performance of your electric scooters is a significant issue to discuss here.
As electric scooter companies like Varla have put forward their major off-road tires lineup for confident ventures. But there are some impacts of the off-road tires on the performance of your electric scooter, and it is essential to keep them in knowledge when it comes to the e-scooter purchase.
So let's not waste further time and begin our discussion right away!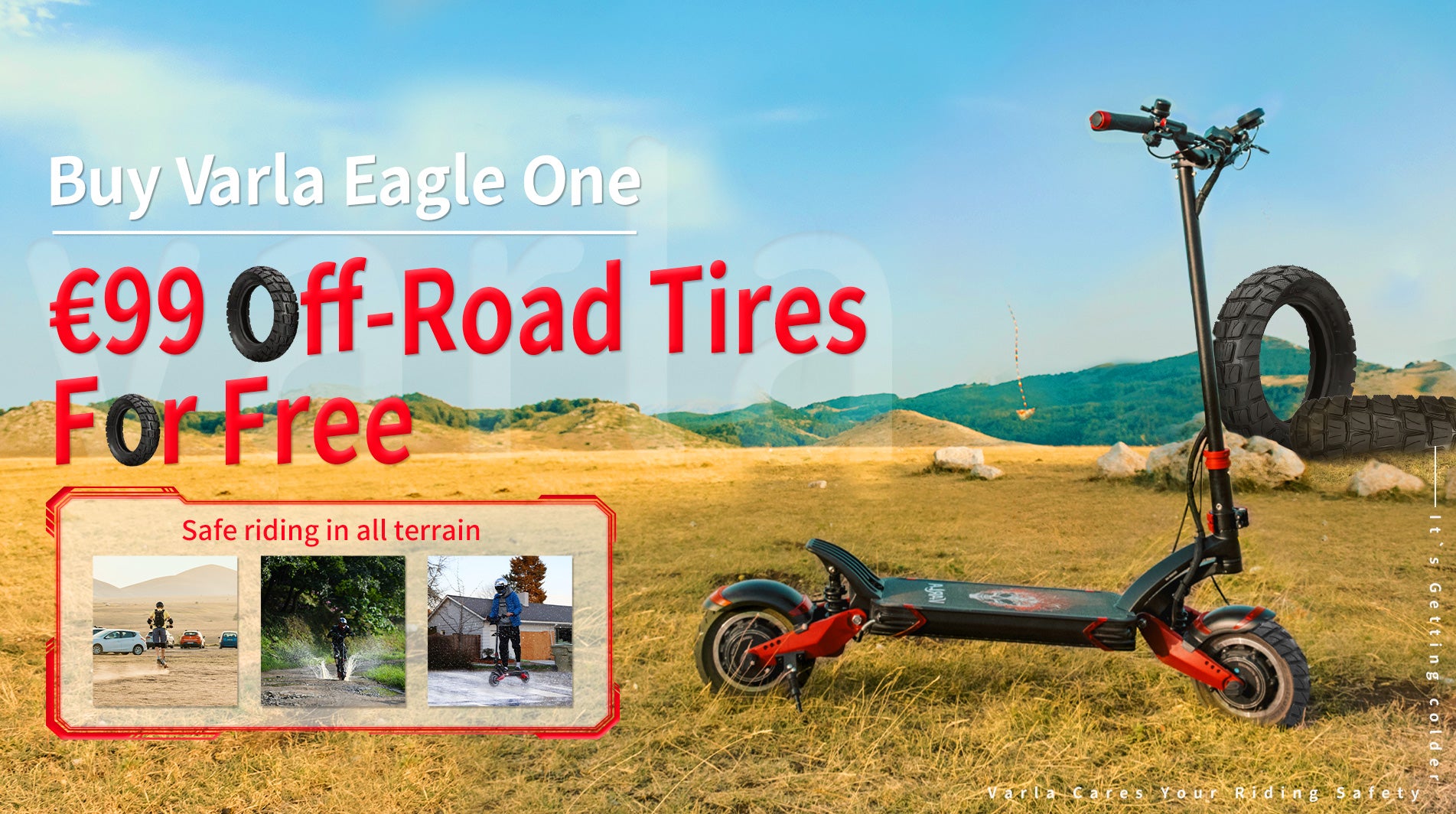 Some Impacts of Off-Road Tires on the Performance of Your Electric Scooters
It is sure not to expect the same riding experience on off-road tracks in comparison to the smooth roads.
So let's talk about some factors that you have to face alongside your rough and tiring journey!
1-Speed Decline:
You can't expect your electric scooter to go at the same pace as it does on the road or on a smooth track, and the uneven bounces and cracks deviate the speed consistency of your electric scooters on the bumpy track.
In addition, the tire's progress really matters when undertaking an adventure on rough tracks. You can't really try to use the same conventional electric scooter tires, so you need a separate pair for this particular purpose.
Users can check out our commendable off-road tires for their electric scooters at a fair pair to avoid any hassle in the journey. So the speed of the electric scooter ultimately declines with when undertaking an off-road track.
Speeding can be Dangerous:
It's also very brave to go on speeding your electric scooter ride when you are taking an off-road adventure. You might have to face uncertain consequences if you continue increasing speed while overlooking the road circumstances.
So it is better to keep the speed limit in check when riding in such circumstances. Otherwise, you might have to face health injuries on top of everything.
2-Stress on the Engine:
Off-road tires are developed for better traction while keeping the ground grip strong. That is the reason why you always require this category of tires to assist such journeys. Besides, the cracks and bumps on the track are enough to put severe stress on the engine.
So there will be doubts regarding the consistency of the engine as your electric scooter ride goes through thick and thin. The engine still suffers despite the fact that tires hold more grip than your expectations.
Reason:
It's evident that the engine suffers more because of the unusual track, but that also comes down to the selection of your tires. In addition, the way isn't the only object to blame as it also relates to the tires of your electric scooter's ride.
Off-road tires play a pivotal role in strengthening your smooth journey. So if your electric scooter is wearing weak tires, then it is obvious to go through more engine troubles, and more bumps on your ride are directly proportional to the engine sickening.
So make sure to buy the set of right off-road tires if you don't want to go through extensive engine problems. The all-new Varla off-road tires provide you with an extensive opportunity to make off-road journeys memorable.
3-Power Dissipation:
If we talk about engine efficacy or performance, we can understand extra power dissipation. Electric scooters lose more power and stress more energy with the whole stress being put on the engine to work harder.
Therefore, the battery should be checked and charged correctly in order to get you through the journey. Location idea is another significant aspect here as electric scooter rides are not made for long and challenging journeys.
A Point to Remember:
Your past experiences shape your decisions of the present time. If you don't have any past off-road riding experience, you can talk with someone who's experienced. It often takes more energy and power to operate in such environments.
So might not be aware of the battery average when it comes to the off-road riding experience. Besides, the off-road tires take a lot of energy, as we did explain in the above points. Acknowledging differences in riding circumstances will help you get the most out of your journeys.
A Solid Solution:
Off-road tires assist your electric scooter on the entire journey, no matter where you choose to ride. So if you want to ease through any form of track or ground, then you need promising tires. Varla off-road tires produce better consistency by reducing power loss.
4-Riding Comfort:
There is a lot of difference in riding comfort when comparing off-road and average road riding experiences. Your electric scooter tires make a lot of difference when it comes to a comfortable ride in all situations/circumstances.
You can relate to many situations if you are going through a rough and bumpy journey. A rider can feel body ache if he continues riding in such an uncomfortable situation.
So make sure to buy solid off-road tires from Varla to make the best out of your off-riding experience.
5-Safety:
Most off-road rides can be dangerous if you are not adequately trained. There is a significant risk of getting hit or falling from your scooter if you don't pay attention to the troubles of the track. So that is one of the chief points of hitting an off-road track.
You have to acknowledge the severity of the riding situation when it comes to off-road riding. Also, you can try to consider some safety precautions as you hit the off-road track. Many pads cover the vulnerable parts of the body.
So make sure to cover up when you plan to ride outside in challenging circumstances.
Wearing Helmet:
There has been a great talk about wearing a helmet, even in normal riding circumstances. It is an essential safety measure in most parts of the world as directed by the official authorities. But not most of the riders follow this safety measure.
Besides, there is an excellent probability of getting hit or falling off the ride when it comes to the off-roads. So it is in the high recommendation to wear a proper helmet assisting such journeys, and that will cover the most essential part of your security measure taking on off-road tracks.
It Would Help if You Buy Quality Off-Road Tires to Assist Your Adventure
It is always essential to go for high-quality off-road tires so you can have an authentic off-riding experience.
Varla has always been a bright option for providing quality electric scooter accessories on top of everything.
Varla presents all sorts of demanding electric scooter accessories to complement the off-road riding experience. There is everything for the electric scooters to select, ensuring an incredible electric scooter riding experience on top of everything.
Final Words
So that was our complete discussion regarding the impact of off-road tires on the performance of your electric scooters. The article clearly discusses the most notable aspects of riding with off-road tires and their effects on your ride.
All these aspects can be clearly covered as you undertake the bumpy track. Varla presents a wide range of high-quality electric scooter accessories to give you a complete riding experience. So you can get the most out of your riding experience.
Holiday Discount:
Do you want to purchase e scooter there is good news for you? Varla Scooter EU offers several 'Holiday discounts" on Black Friday, Thanksgiving Day, Cyber Monday, Christmas and many other holidays.
Buy Varla Eagle One now and get off-road tires of worth €99 for free.
Get €100 off for Varla Eagle One with code: eagleone100 for Eagle One
Get €120 off for Varla Pegasus, with code: pegasus120