Why Are Electric Scooters So Popular?
The major reason behind the popularity of electric scooters is that they are eco-friendly, lightweight, fast, and efficient. In fact, multiple features make them not only suitable for the environment but also for practical use daily. So we can say that off-road scooters of emerging electric scooter brands such as Varla Scooter is going to change the future of transportation.
Today in this article we will unveil the curtain and tell you about the efficiency of electric scooters and why they are so important for our ecosystem.
Why are electric scooters so popular nowadays?
Today's modern traffic consumes a lot of fuel and causes serious environmental problems, by adding harmful ingredients to the air and increasing the smoke in the atmosphere. The worst part is that there are very few people who know about the best affordable alternatives. They continue to use the traditional sources of traffic.
But now the world is changing rapidly. People are actively looking for time-savvy and environment-friendly means of commuting to work and educational institutions, and here comes the role of electric vehicles in the picture.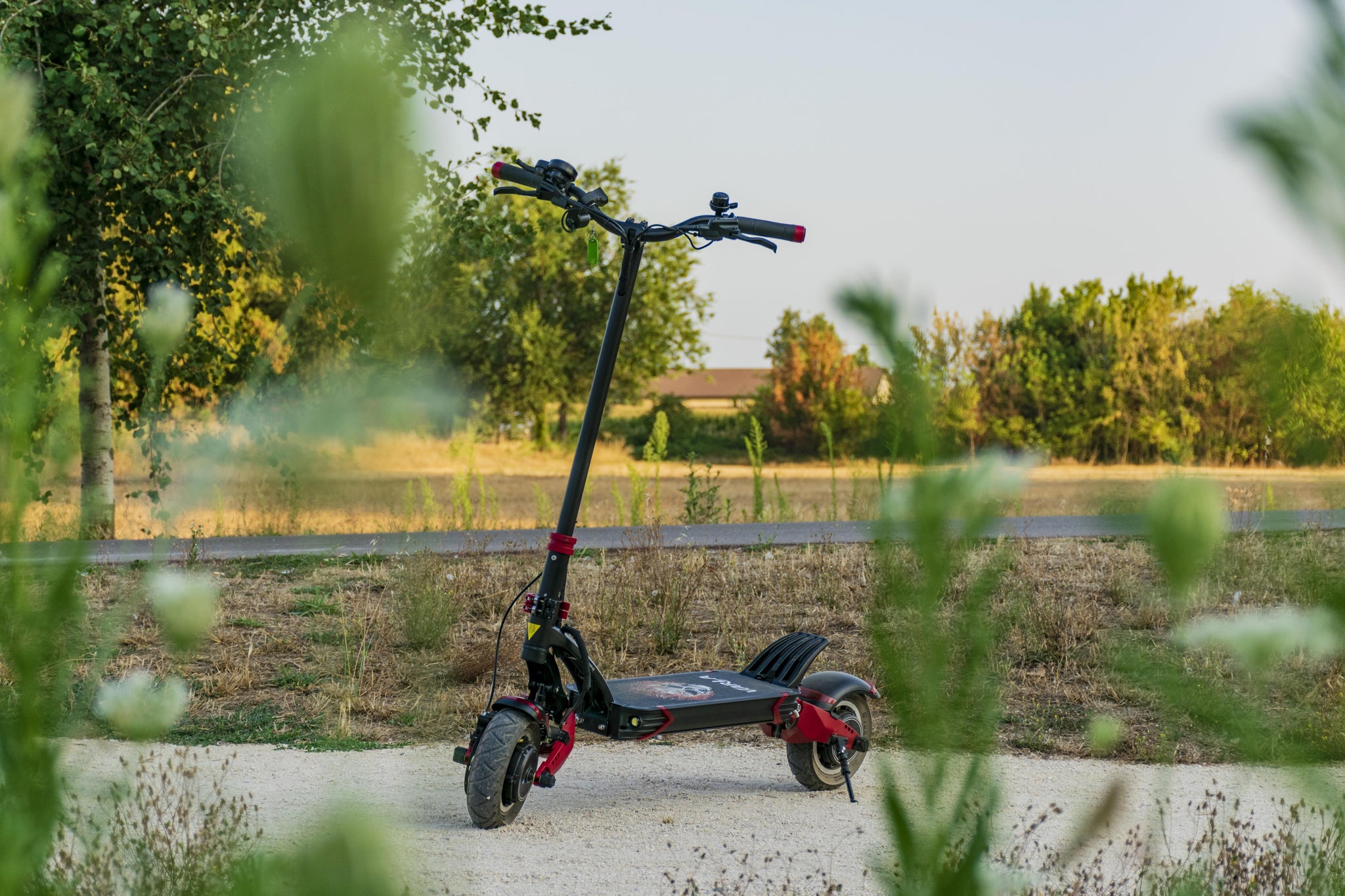 Advantages Of Electric Scooters
Although all-electric vehicles come with various advantages, electric scooters are particularly useful because they are foldable, lightweight, and compact. Let's explore some of the major advantages of electric scooters such as Off-Road Electric Scooters For Adults.
Good Average Speed
The proverb, "Slow and steady wins the race" also applies to electric scooters.
Electric scooters do not have very high speeds, however, they are very efficient in making a narrow escape in heavy traffic jams. The top speed of these scooters is usually 15.5 mph (25 km/h) and 18.5 mph (30 km/h) which is a totally fine average speed when you do not need to worry about traffic jams. So when you are on the electric scooters, you can easily utilize sidewalks and bike tracks.
The good news is that high-speed electric scooters are now available as well such as Varla Eagle One. 
Practicality and time efficiency
Remember that e-scooters are often foldable and you will need to spend only 5 seconds to completely fold it into a very compact form. So whether you want to keep them under your desk in an office or take them with you for gym class, they can serve as best companions.
The short time that is required in the folding is a very useful feature for the students, busy office workers, and other people who do not have enough time in their hectic lives to spend in the traffic jams and solving fuel issues of their vehicles.
Moreover, when you live in a small area, you can fold them and keep them in your trunk.     
Cheap Maintenance
In addition to the small and compact feature, maintenance of electric scooters is also quite easy and cheap. Remember that they have only two expensive components — battery and electric motor. So when it comes to the maintenance of these two you will have to spend a few more pennies than usual. Otherwise, all the components are cheap and maintenance is very less time taking.
It's Fun
No one can deny the fun factor that is associated with the riding of electric scooters. It is due to this reason they are equally popular among kids, teens, and adults. The most joyful and entertaining Scooter for adults is the Off-Road Electric Scooter For Adults which is very popular among teens as well.
Thus, whether you are looking for an exceptional ride for your kids on which they can go to their schools or are planning to give some extraordinary gift to your teenager, you should immediately proceed with the purchase of electric scooters.
No Taxes
When you choose electric scooters as your main commuting mode, you will not have to worry about taxes or anything that can financially burden you. So even if you have to spend a bit more money while purchasing the electric scooter, you can save yourself from the long-term expenses that are associated with the vehicles.
Good Autonomy
If you're concerned about the duration of the battery there is good news for you. The battery of electric scooters can last for a long time. On average you can cover a distance of up to 20-25 kilometers with a fully charged battery. Although it is more than enough for commuting, most people use these scooters as the last-mile vehicle which helps them to reach their final destination without walking.
Charging Time
The charging time of the electric scooters is often variable. If you are looking for the best electric scooters with the least charging time, then you should proceed with the Varla Scooter which has a short charging time since you can charge the battery with two chargers at the same time.
Portability 
The portability of these small scooters makes them stunningly amazing vehicles. You can easily fold them and put them in your trunk while walking. So if you want to go shopping, they will not create any confusion for you. After the long hours of shopping, you can again bring them out of your trunk or bag and use them to go to the last destination instead of walking.
No wastage of energy
As you cover most of the time by riding on these scooters, you will never get sweat stains or go out of energy. In this way, you can keep yourself from feeling tired at the end of the day. Being tired after a long ride is something that can cause long-term weakness, especially if you have a lot of other work to do as well.
Efficiency
It does not make sense to use a vehicle of 1-2 tons to move only a person around. So there is a dire need to take maximum advantage of these electric vehicles and discourage the use of gas engines.
Popularity Of Electric Scooters
The trend of electric scooters is increasing day by day and it would be right to say that they are leading urban transportation. With the further improvement in the technology, we can assume that they will soon become more popular due to more enhanced features such as increased battery times and reduced weight.
As they are compact, small, lightweight, eco-friendly, and foldable, they can help in saving a lot of energy, time, and space. People nowadays are also preferring them as the best off-the-grid vehicles because they do not consume fuel and can easily be charged by solar electric energy.
It's Time To Purchase A New Electric Scooter!
It is no secret that electric scooters will become even more popular in the few years to come. So there are strong chances that their price will reduce with time and their usage will become more common.
If you are also looking for an energy-efficient source of moving around and commuting to the work & educational Institute, you should immediately focus on purchasing the new Electric Scooter for yourself and other family members including kids and adults. It will be a very smart investment and pay you in the long run.