Why do We Equip Varla Pegasus with Wide Solid Tire?
Varla Pegasus is a new versatile electric motor scooter that comes with wide solid tires. So are confused about the reason why do we equip Pegasus with such kind of tire? Thankfully, we got you covered as this article will guide you why wild solid tires are our first choice for Pegasus and how it is best.
Many factors are supporting the recommendation of wide solid tires. Understanding these aspects in detail will help you understand the core idea behind this right combination. So stick around to find out more about this particular topic.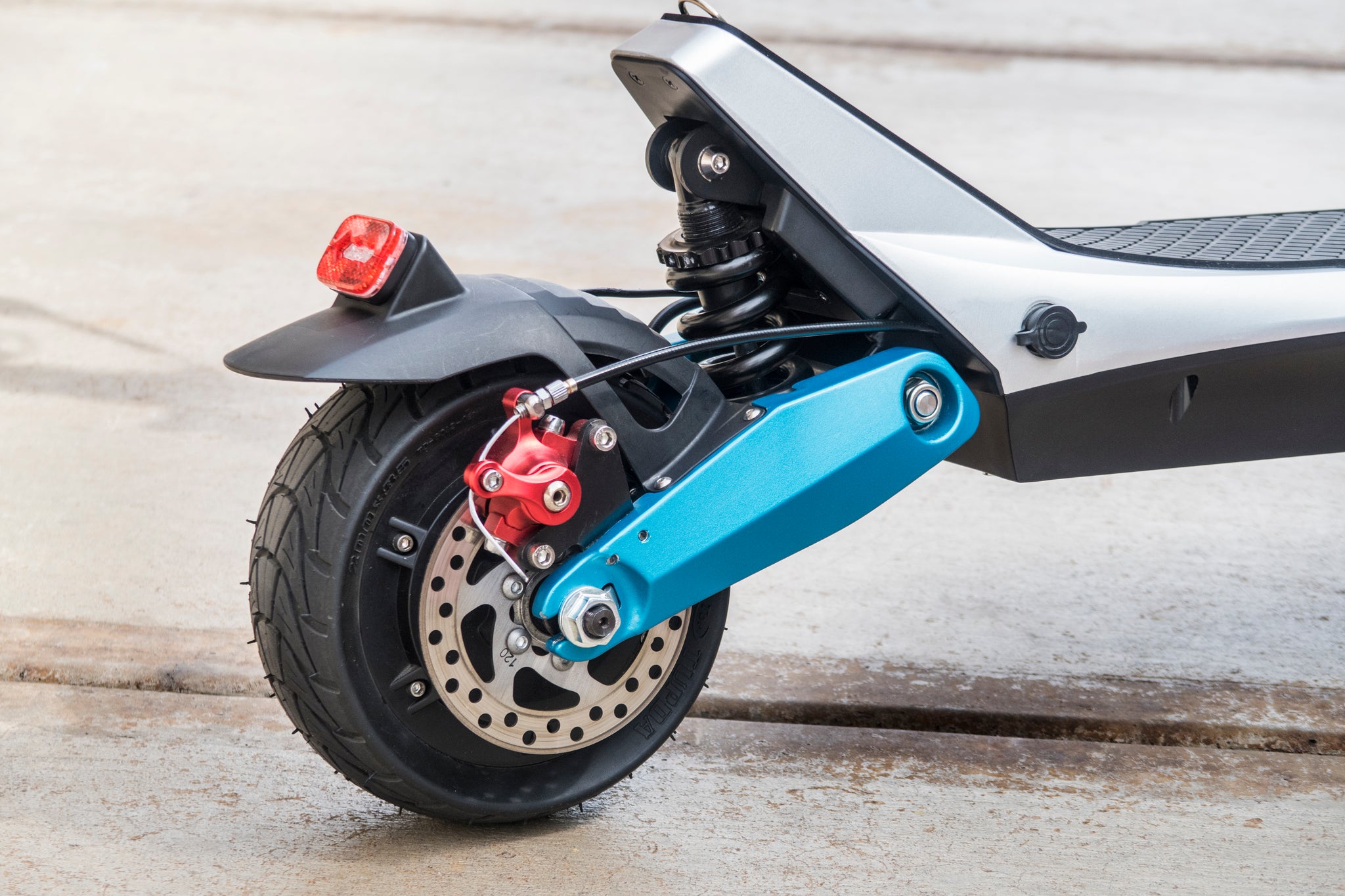 Reasons for Equipping Wide Solid Tire with Varla Pegasus
It is essential to dive deep into the case to get the most relevant details out for convenient comprehension.
So let's take about some of the factors supporting wide solid tires with this electric scooter.
1-Stability:
Observing on-road electric scooters is a different thing while driving is another. Most electric scooter drivers face stability issues with respect to the ground level. And that has been a significant concern of improvement in new electric scooters too.
But this is made possible with tire to the scooter's body combination, which excels with balance on top of everything. You can say that Pegasus body's profile is synchronized with the nature of wide solid tires.
It alleviates the trouble of touching the ground in order to keep the vehicle in a state of balance. Most drivers had to get down to attain ground support using feet, which can disrupt the pace of smooth scooter driving.
The disturbed state of driving a dual motor electric scooter up-brings huge frustration in drivers. It negatively impacted the driver's psychological state, but until Varla Pegasus came with wide solid tires.
Therefore, the driver no longer has to deal with the unbalanced state of driving.
2-A smart Start:
An economical yet beneficial selection is highly encouraging for most households. You are not always in a position to spend a considerable amount to support your choices. The wide solid tires on Pegasus are really economical, unlike other tires.
They offer great value for the cash you spend on this intelligent electric scooter. Moreover, the tires' quality and strength are really incredible, unlike other tires in the same price bracket.
So you no longer have to clean up your wallet by purchasing a new pair of expensive scooter tires.
Besides, you can always replace the current solid tires pair on Varla Pegasus in case of quality decline from uncertain bumps. That makes it one of the economical and phenomenal tires in the accessible price range.
3-Sturdy:
At Varla, you will get durability assurance with the solid tires installed on our promising Pegasus electric motor scooter. The solid tires are built for rough and tough tracks with the thick layered material used in the construction process.
The drivers can take on bumpy or uneven roads using powerful Varla Pegasus using these solid tires. These tires perform effortlessly even on the worst tracks or the tracks that aren't suitable for underpowered vehicles.
Additionally, the tires are tested against all possible road dangers and uncertainty so they can adapt to the tough road conditions as well.
Most electric scooter tires are worn out after long bumpy rides, but these tires are exceptional in that case.
These tires will provide riders with extra balance and strength that keep them fueled for the rest of their journeys.
4-No Maintenance:
It is encouraging to hear that the solid tires don't require maintenance over time, unlike other tires. The solid tires don't include tubes as a convenient construction element, and that means the tires won't lose efficacy with the passage of time.
The tires are not prone to breakage, which is really a huge bonus. Other tires constantly require maintenance when you take them on rough tracks, and it can eat up your time too.
So these tires have this edge that they don't need any maintenance.
Besides, it will only come to the replacement of these tires once they wear off. So that is another brilliant advantage to have wide solid tires with Varla Pegasus.
5-Effortless Drives:
Solid tires make every ride effortless. The tires have the best ground adaptable nature that continuously works to improve the drive quality further.
Furthermore, these tires will help the scooter to achieve maximum balance even on a tricky track. So every drive will be perfect with these wide solid tires equipped on Varla Pegasus.
6-Drive Confidently:
The drivers always face skepticism regarding the safety of the journey waiting ahead of them. The Varla Scooter takes on every responsibility when going on any trip. Some roads are inundated with roughness and bumps, which can be challenging for most.
Your solid tires will ensure your safe passage through every road or track as they don't get flat. These tires come without the headache of becoming of getting flat tires maintenance. So you will be able to drive with incredible confidence.
How does Varla Pegasus Improve Your Drive Quality?
Our incredible Varla Pegasus commuter scooter has all the phenomenal functions expected of a quality driving experience.
So let's give you some more details regarding the excellent driving functionality of our Varla Pegasus scooter that you all love.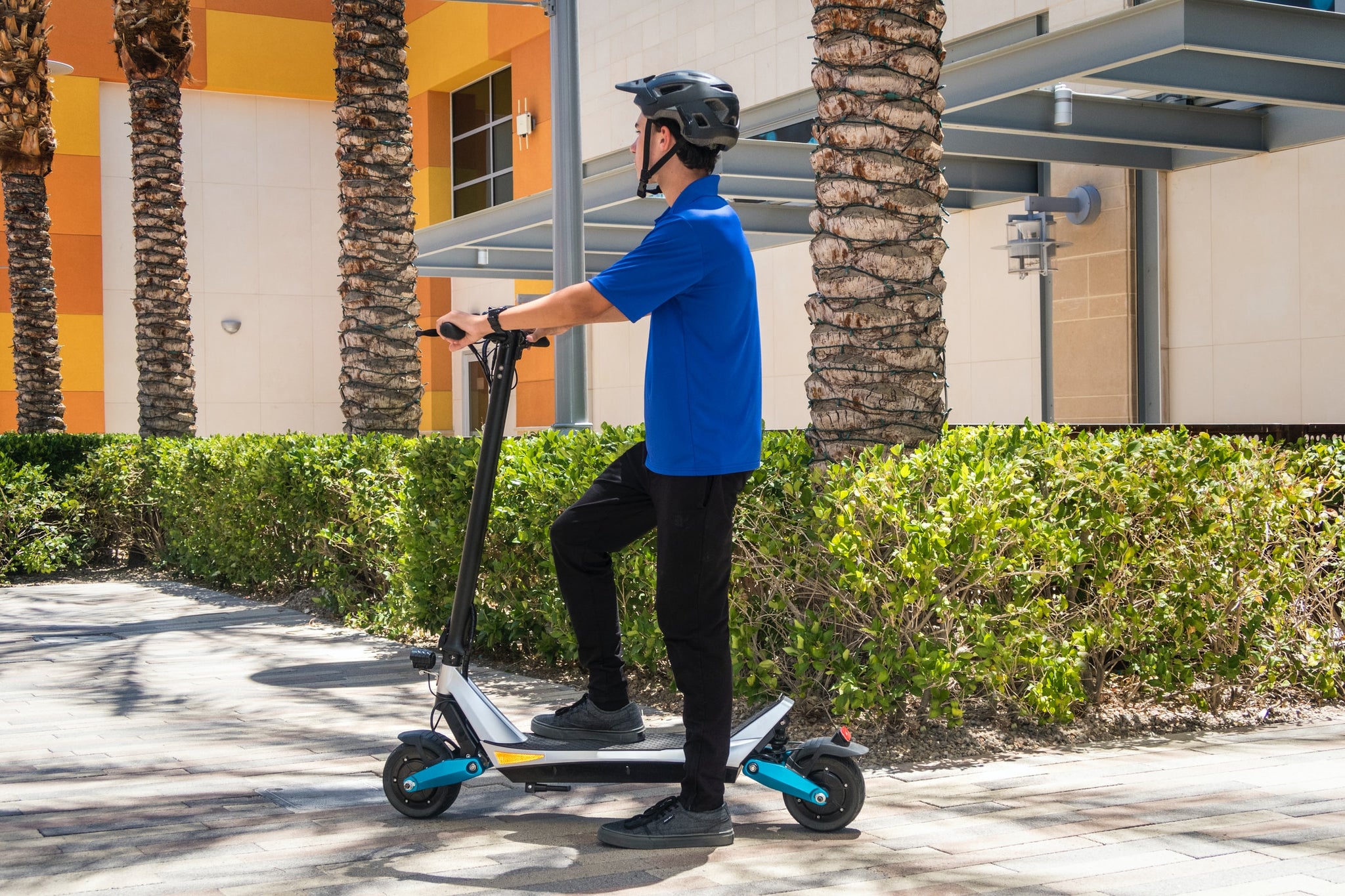 1-Hassle-free Braking System:
We featured the highest quality braking efficiency inside our Varla Pegasus. The vehicle stops just to the exact time, making it very safe in that regard. In addition, the braking system has better heat expelling functionality for effective brakes and safety.
2-Foldable Design:
You can't get enough of the foldable design on trendy off-road electric scooter. The manufacturing facility has provided an intelligent body structure to fold and unfold depending upon the circumstances seamlessly.
Also, it is straightforward to fold up the scooter with an easy system and intriguing controls. The lock clamps installed on the scooter ensure better safety on top of everything.
3-Smart Display:
It is very convenient to have all the crucial information on a high-quality LCD, just like on our Varla Pegasus electric scooter bike. The scooter features this LCD panel facing the rider at the time of driving.
That makes it really convenient for the riders to take a glimpse of all critical information. Drivers will be able to get all the required information like battery percentage and functioning range.
How display keeps you updated?
The glance view of the LCD gives you information regarding battery percentage and travel range, and that gives you an estimate of charging performance in the coming time. So you can decide to travel to a distant place or not.
So that has a really positive impact on your travelling decisions as you are always in the loop of the battery performance. The expected battery life just reflects the area you can cover in order to reach the destination safely.
Final Words
Now hope after reading this article you are well aware of Why do we equip Varla Pegasus with wide solid tire? Our all-new Pegasus brings a better combination with solid tires instead of flat tires. If you are looking to purchase a best scooter then Varla Pegasus can be the best option for you. If you want to purchase it or need some more information regarding Varla Pegasus electric scooter and many others please check out Varla Scooter EU.